Question for @Mathe
Hi, so next section which is unclear is Bayesian Statistics.
I don't know if I understand it right so please explain :)
Here we are choosing some random distribution calling it "prior" and set its parameters to some random values?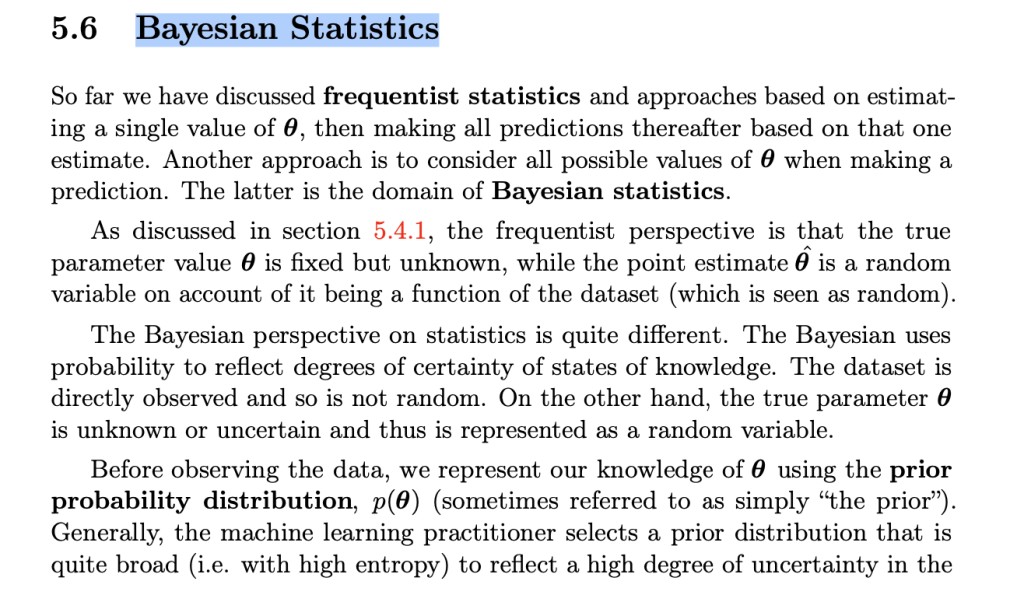 Then based on samples we get those parameters become more and more precise?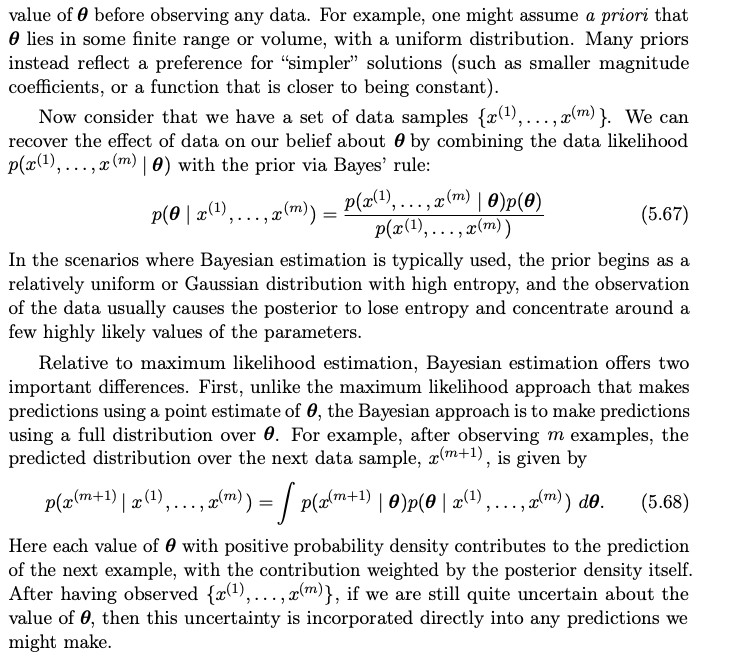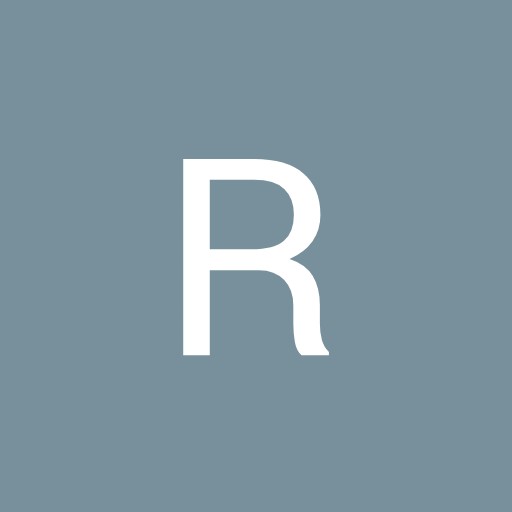 Babaduras
93
1 Answer
In bayesian statistics, there is a $p_{model}(x|\theta)$ which depends on an unknown parameter $\theta$ (or vector of parameters).

$\theta$ is treated like a random variable and has its own pdf called prior: $p_{prior}(\theta|\gamma)$. This pdf depends as well on parameters, in our case $\gamma$.

Here we are choosing some random distribution calling it "prior" and set its parameters to some random values?

Careful, we don't choose the prior distribution or its parameters "at random". We choose them making reasonable considerations and sometimes, even based on the sample of observed values. Once we have chosen the prior and the paramaters for the prior, they remain fixed!

Next, we compute a posterior density for $\theta$, $p_{posterior}(\theta|x)$, using Bayes rule. Notice that in this case, the observed values in the sample are constants. Almost like "fixed parameters". Bayes rule says: $$p_{posterior}(\theta|x) = \dfrac{p_{data}(x|\theta)p_{prior}(\theta)}{\int_\theta p_{data}(x|\theta)p_{prior}(\theta)}$$ Then based on samples we get those parameters become more and more precise?

Careful, it's not the parameters for the prior that get more precise. The information in the sample is combined with the information in the prior to give us a more precise understanding of the random variable $\theta$.

This information is contained in the posterior for $\theta$, and we might ask ourselves now things like what is the expected value of $\theta$ or what is its variance, etc.

Example:

Suppose we are interested in knowing the efficacy of a treatment to heal a person, that is, we are interested in the probability $p$ of a person being cured after following the treatment. We know that the treatment was administered to 100 patients, and 60 were cured.

Now, we want to follow a Bayesian approach, so we treat the unknown probability $p$ as a random quantity. Based on previous studies, we believe the efficacy of the treatment could be modeled by a beta distribution with parameters $\alpha = 3, \beta = 5$. We want to see how the recent sample of treated patients can update our beliefs about the treatment.

The prior then takes the form of $p_{prior}(p) \propto p^{3-1} (1-p)^{5-1}$ and the likelihood function is $p_{data}(x|p) \propto p^{60}(1-p)^{40}$.

This gives as a result a posterior of the form $p_{posterior}(x|p) \propto p^{60+3-1}(1-p)^{40+5-1}$. We recognize this posterior as a beta density with parameters $60+3$ and $40+5$. We can conclude that the mean value of $p$ is $\dfrac{60+3}{60+3+40+5}$
Mathe
2.9K
1 Answer
274 views
Pro Bono